If you are a blogger, a freelancer or an affiliate marketer, you always want to get your payment as easily as possible, Payoneer makes it easier to get paid online. Payoneer MasterCard is a popular option for freelancers and publishers to quickly and safely withdraw online earnings.It is a New York based online payment solution that handles money transfer safely and securely to over 200 countries worldwide. It offers a
Free Payoneer Prepaid MasterCard®
that can be used on MasterCard supported ATM or payment terminal.
With a Payoneer account you actually get a Bank of America Checking account and you can use this account number to receive payments from thousands of companies from around the world like Commission Junction, Amazon, Paypal, InfoLinks, AdStract, Matomy SEO and so on.
In this post, I will be sharing how to get a free Payoneer MasterCard with $25 bonus and make money online.
What is Payoneer MasterCard:
Get P
ayoneer MasterCard
Payoneer MasterCard is a Prepaid Debit Card that can be used in most places where MasterCard is allowed. You can also withdraw Payoneer money from your local bank and any ATM in the world that displays the MasterCard®. Payoneer Prepaid MasterCard allows you to have instant access to your cash.Payments made by using the Card doesn't carry any fee but if you plan on withdrawing money from ATMs, you will be charged ATM fee + currency conversion fee if reside outside US.
Benefits of the Payoneer MasterCard:
With the Payoneer MasterCard® card some of incredible benefits are:


01). You don't need to have a bank account to get a free MasterCard.
02). You can withdraw money via Payoneer from your local ATM.
03). You can get payments from freelancing sites like Freelancer, Elance, Fiverr, etc.
04). You can also get payments from US-based companies like Clickbank, Shareasale, etc.
05). You can do online shopping, or you can use it in stores that support MasterCard.
06). You can apply for a Free Virtual US Bank account from your Payoneer account.
07). You can also make money through its 'Refer a Friend' program
08). Only available funds can be spent - so no overdraft fees.

How to Sign Up for Payoneer MasterCard:
Applying for Payoneer card is extremely easy. All you need to do is, sign up on Payoneer.com and wait for the MasterCard to arrive.
At first, you need to create a Payoneer account. Now the GOOD news is, you can earn $25 once your card is loaded with $100.
How to make money with Payoneer:
You can start earning passive income online through :
1).Payoneer refer a friend program:
Spread the word about Payoneer and earn money..Payoneer offers you to make money from their Affiliate Program which is known as 'Refer A Friend' program.The amazing thing about the program is, whoever joins through your affiliate link will get $25 bonus. Once s/he receives at least $100 in payments, you'll get $25 reward. It's a win-win deal.
Review For Payoneer Affiliate Program
2).Make Money with Payoneer partner program :
Payoneer has partnered with thousands of leading marketplaces and companies worldwide, who offer Payoneer as a fully integrated payment option. You can easily receive funds from any of them, directly to your Payoneer account. A Payoneer partner is a program, a company, which is allowed to provides Payoneer powered debit MasterCard to its customers advertiser ,freelancer and workers. The similarity between these programs is the payment methods.They differ in the way you can use them to earn revenue. You can earn money with Payoneer from anything you do on the internet.
So, whatever your skill level, your fields of interest, you're ready to go with this Payoneer partners program.
However, you must first
sign up
for a Payoneer Prepaid Debit MasterCard through a very simple and free process.
Click here
to sign up for a Payoneer card if you do not already have one
Note: Due to the Indian government's restrictions, Payoneer cannot provide their card to residents of India.
Conclusion:
Hope this post helps you . If you have any questions regarding Payoneer Master, feel free to ask me via comment.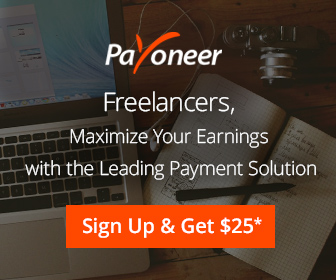 However, if you find this post useful, help me by sharing this post on Facebook, Twitter or Google+.
Happy Earning..!!